Halka B. Organics
Fir Needle CO2 Essential Oil Siberia a true gem
Abies Sibirica CO2 Extraction
This one is our little gem, thick and molasse like. The scent is sweet, deep, playful and transports you into the deepest yet safest parts. An absolute joy!
100% Pure Essential Oil CO2 extraction
Customer Reviews
11/14/2021
Cherie D.

Australia
Fir - a secret little healer
This oil is something else, the moment you open the bottle you notice a gentle soft little maneuver toward you almost like it is seeking out what you need that she can offer. She is almost subtle while powerful. Fir made a perfect companion in my homemade chest rub, which with her buddy Wintergreen also served well to ease the hayfever!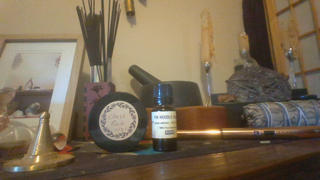 11/17/2021
Halka B. Organics
Thank you Cherie for this amazingly poetic feedback. I know completely what you are talking about, it truly is a gem! May it serve you well. Much appreciation Hali
07/29/2021
Sonia N.

Australia
Pine fir needle essential oil
ohhh i have no words to express the amazing relaxation that comes with this essential oil. It is like walking in the pine forests of Norway or wherever there are pines. it takes my mind and senses to another level. Halka's essential oils are something else, such high quality. I have used oils now for 25 years and I bought them from many distributors. None match the exquisite quality of Halka's products. Thank you Halka!! keep up the good work! you should come to the Sunshine Coast.
08/01/2021
Halka B. Organics
Sonia! would love to :) I guess this super high praise goes to the CO2 extraction of the Fir Needle from Siberia that we offer - yes indeed a true gem! So happy to hear that it brings you so much joy and thank you for sharing and appreciating our passion so vividly. Keep walking those forests - the most beautiful grounding experience ever :)