Halka B. Organics
Natural Perfume Oil SAMPLES 1ml
Enjoy the magic of our 100% natural perfume oils in a sample size. These Perfume Oils normally come in a 6ml frost Glass Roll On Bottle. 

Each sample comes with the invitation/information sheet in a muslim bag. 
We do hope you will enjoy merging with our scents as much as we have enjoyed creating them for you.
They are all 100% pure essential oils in 100% cold-pressed Australian Jojoba Oil. We do not add ANY isolates to our perfumes and we do not filter our perfumes as each blend is synergised not only for its scent but for its energetic blue print. Lovingly created by nature and handblended by Halka B. in our sanctuary in Fremantle, Western Australia. 
Each perfume holds its own story and invitation. May it serve you well.

Enjoy!
Customer Reviews
01/13/2022
Rosalie B.

Australia
Divine perfume oil
In love with the rich quality of the perfume oil sample looking forward to buying full size and trying different ones. The only perfume I will use. Natural long lasting and so lovely
01/14/2022
Halka B. Organics
Thanks Rosalie for your 5star review :) Happy to hear that you like them - keep enjoying! Hali
12/13/2021
Surinder

Australia
Truly clean and organic
I m in love with their 4 perfumes Rose musk, shaman, love potion and frankincense. One share definitely try natural perfume from Halka b , their formulation are divine. I m in love with their Art of Scent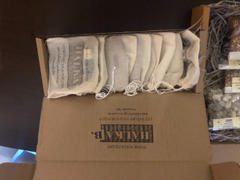 12/13/2021
Halka B. Organics
Thank you Surinder for your kind words and for sharing our passion :) Your rating and feedback is very much appreciated. Keep enjoying! Hali
06/17/2021
Lani R.

Australia
exquisite product
pure beautiful smell. last long and is very unique
06/23/2021
Halka B. Organics
Thank you Lani for your 5star review :) Happy to hear you enjoy it.
04/12/2021
Aimee H.

Australia
Nice
I got Memories, Mediterranean Dawn, Twilight and Love Potion. All were lovely, strong initially and warmed nicely. All had that essential oil natural incense type smell to them. They lasted about 3-4 hours on my skin.
04/14/2021
Halka B. Organics
Thank you Aimee for sharing your experience - much appreciated.
03/08/2021
Marina M.

Australia
Beautiful Products
I was pleased to be able to buy a sample so I could try the perfume. My favourites so far are Twilight Grace and Love Potion 21. Always quality ingredients in everything from this shop. Highly recommended!
03/09/2021
Halka B. Organics
Thank you Marina for your 5 star review, your feedback and praise :) We love it :) With much appreciation - keep enjoying!