Halka B. Organics
Arabic Nights Blend
A Sensual Spicy Blend
Ingredients: Ylang Ylang, Patchouli, Tolu Balsam, West Australian Sandalwood, Frankincense, Cinnamon, Clove & Mandarin
100% Pure Essential Oils
--
This deeply provocative warm and spicy blend that has been designed to warm the heart and open the senses to a sensual experience where earthy spices linger in the air ever so gently seducing our bodies, our minds and our spirits.
How to use:
Burn 4 – 6 drops in essential oil burner or diffuser to create a calm and soothing environment
Mix 5 drops with one teaspoon of carrier oil and pour into a freshly drawn bath.
Apply 1 or 2 drops to your pillow case at night to help you relax and let go.
Mix 2 -3 drops per 5ml teaspoon of carrier oil or body lotion.  Apply to your shoulders,
neck, face and feet and massage gently.
Caution – Never use undiluted on your skin – use our ROLL ON blend instead if putting straight onto skin.
Customer Reviews
12/30/2021
Angela W.

Australia
Absolutely beautiful products!
I've ordered and gone into the Freo shop many times, our house smells like Halka.b constantly. I don't buy any other oils or incense any more, so very happy with these!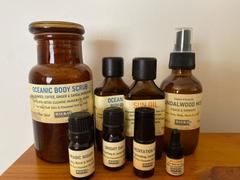 12/31/2021
Halka B. Organics
Hi Angela, this is soooooo sweet - you must truly belong to our Halka B. Family :) Thanks for the super nice words you shared :) With much appreciation, Hali & the team :)