Halka B. Organics
Beautifully handcrafted metal Christmas bells
Enjoy our yearly metal Christmas bells handcrafted by our Artisan Community in India! These guys put an amazing effort into creating these bells - may they brighten up your world.
ABOUT THE MAKING OF THESE BELLS
The base metal is recycled iron with which the base form of the bell is made. After that, a mix of mud, copper and a few other minerals is handmixed and the bell is wrapped completely with this muddy metal mix. It is then put in a clay oven to bake. In the oven what happens is that the copper and minerals melt through the mud to give that lovely uneven rustic coating on the base iron. Once baked, the bell is pulled out of the oven and the baked mud is lightly cracked and cleaned away. 
Our Artisans are experts in this process and have the knowhow for the exact mud and mineral mix, the temperatures to bake it in, how long to keep it in the oven, how to crack and clean it once removed and so on.
May it support you in creating a beautiful warm ambience over the festive season. 
Peace & Joy.
Customer Reviews
12/24/2021
Lynda

Australia
The bells
Loved them , I want more . Thank you so very much
12/27/2021
Halka B. Organics
Thank you Lynda, will pass your compliments on to the community too :) Enjoy them! Hali
12/23/2021
Sarah J.

Australia
Fabulous service, clean and clear..
Not only did postage take only 1 day to the SW( was it magic?) but my products were so energetically clean and clear that I must say it was remarkable. Will definately support this business wherever I can. Products were also beautifully wrapped and packaged without any plastic in sight. A thoroughly pleasant experience with this business.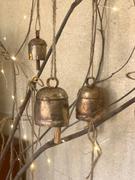 12/23/2021
Halka B. Organics
Thank you Sarah, for appreciating and your great feedback - we love it! Enjoy your goodies and have a warmhearted Christmas - let the bells bring in much love :) Hali